Edward Bulmer Natural Paint
Inviting Edward Bulmer, interior designer, architectural designer and 'colourman' to speak with us…
Welland & Wye is delighted to invite Edward Bulmer, interior designer, architectural designer and 'colourman', to speak with us on the subject of natural paint, interior design, eco-living and his native county.
We have chosen to work with Edward Bulmer Natural Paints throughout our website, in many of our images and in our paint palettes for each fabric. We chose Bulmer paints primarily because we love the palette; It works perfectly with the colourful but muted shades of the wools used in our embroidery.
But we also chose them because in our experience the paints are great to work with. The toxin-free 'no-nasties' promise results in a beautiful natural paint with no chemical smells, excellent application and genuine planet-saving credentials.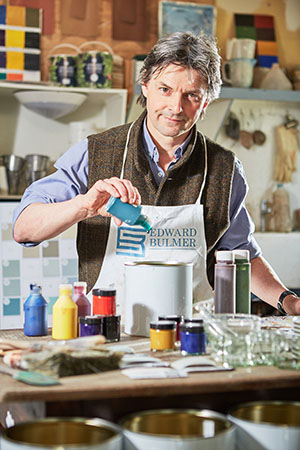 W&W: How did you start your career in the world of design and what made you focus on paint?
I grew up in a Georgian house which my parents restored and furnished over the years. They supported my artistic leanings but instead of art school I studied History of Art at UEA. There I explored the great wealth of historic architecture in Norfolk and developed a passion for the country house in particular.
My first job was for David Mlinaric at Spencer House and then I worked as a freelance researcher for the National Trust before joining Alec Cobbe, a picture restorer who did many creative projects including rehanging pictures and redecoration.
When working at Goodwood in the early C21st I was asked to ensure that I used healthy and environmentally responsible materials. Paint was my one problem supply. It was neither healthy nor environmentally responsible.
So we worked with our manufacturers to develop paints that could outperform modern paints but only require plant derivatives for their formulation. We have played a long game and that has worked in our favour as the market has professed 'green' credentials for longer than customers have really cared. Now the worm is turning, and the value of natural paint is being recognised as an easy win in reducing the carbon footprint and pollution impact of building projects. Our paints are plant-based preparations. Replace the former with the latter and you can have a major reduction in plastic pollution, carbon emissions and poor air quality.
I work with 12 pigments, basically the same as a picture restorer. They form my basic grammar. We have created a vocabulary from this that gives you varying tones of the primary and secondary colours. All of our hues work as a tonal family as we use earth pigment to 'season' each recipe, giving them a softer and subtler appearance.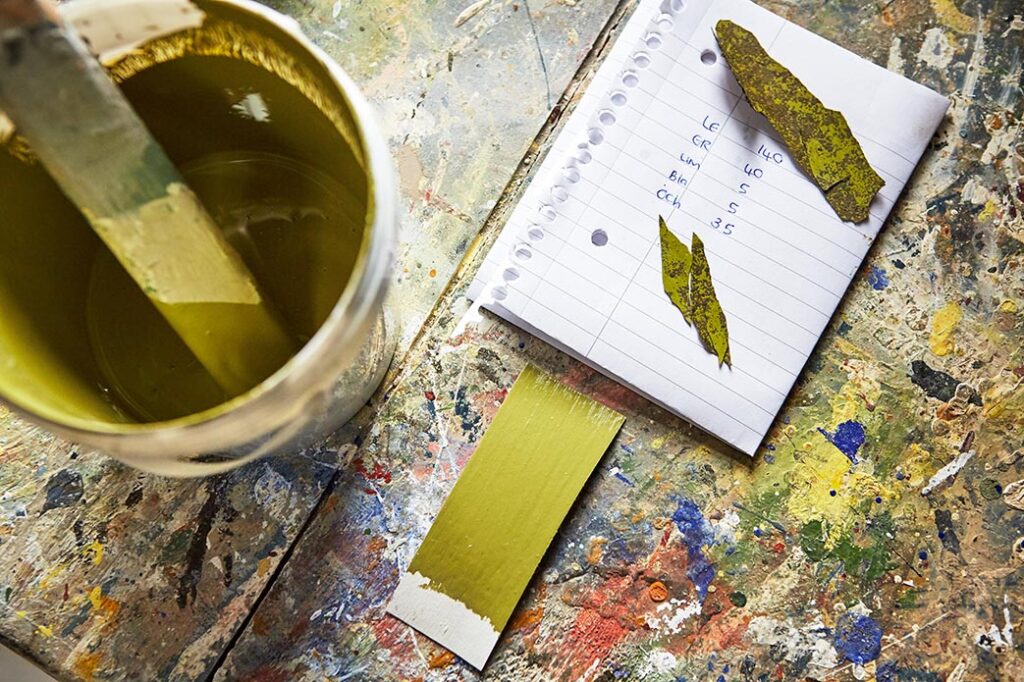 W&W: What is your favourite design era and how would you describe your style?
I find it difficult to have favourites. But I can tell you why I would favour something. I would favour it because I perceive in it artistic endeavour. And that could be in a house or a painting. Or a dress design, or a piece of music. I appreciate buildings that suit humans well.
My favourite period tends to be the Georgian period for the clarity and order of Classical design. I find them very convenient buildings to live in myself or to envisage others living in.
My personal style – thoughtful, practical, detailed and playful.
W&W: For readers who are working on their homes, what advice would you offer to make the process as environmentally friendly as possible?
Do it once and do it well.
Ask your supplier to take responsibility for their packaging.
Always ask for the ingredients/materials used in what you are buying and ensure the principle of repairability that interior objects have.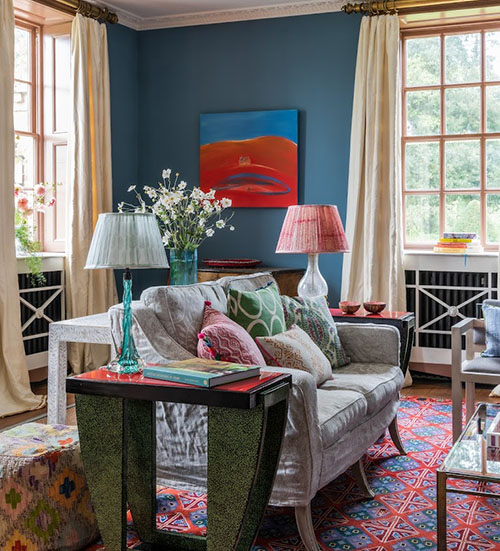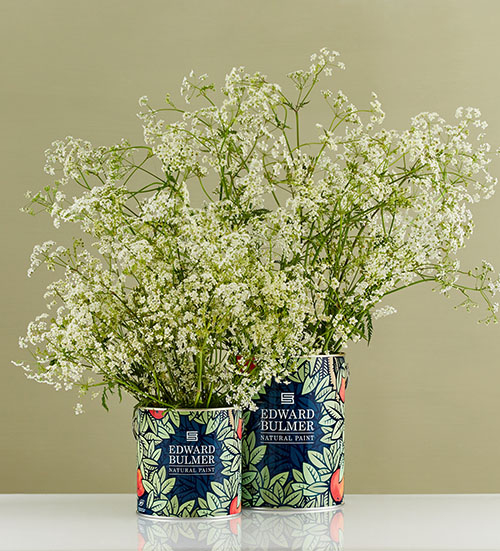 W&W: W&W: Which is your favourite paint colour?
Generally I veer towards blue-y greens and green-y blues. We have a colour called Aquatic that I am very fond of. I think that's because in my lexicon colour is always a backdrop. So I'm always thinking what colour will pictures look good on, and often those pictures are framed in gilt frames or wooden frames so you need to be considering how those look etc.
W&W: What is the most memorable project you have worked on?
Pitshill House, the complete renovation of a Georgian gem.
W&W: In the interiors-world who is your biggest inspiration?
Patrick Williams at Berdoulat – I just love how much he cares.
W&W: Tell us your thoughts about crewel.
I love the long tradition of crewel work, that shows it is highly versatile for rendering large scale design as well as delicate embroidery.
W&W: What's coming next for Edward Bulmer Natural Paint?
Last month we opened our first shop on the Pimlico Road in London – 194 Ebury Street. Though we continue to sell and supply our paints online, it will be great to have a place where customers and designers can come and see for themselves the revolution that is going on in house paint!
We have lots of exciting collaborations and news afoot, which we cannot wait to share more of very soon.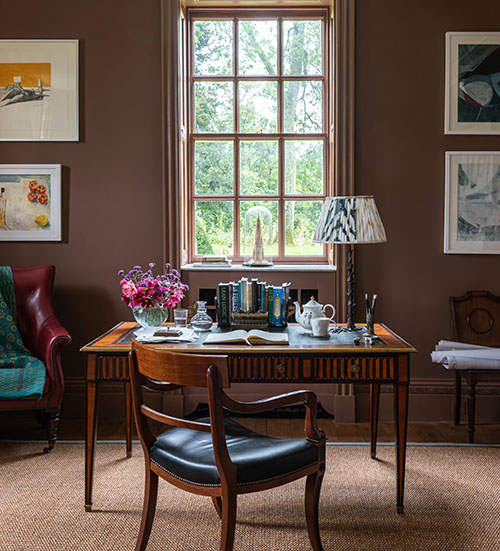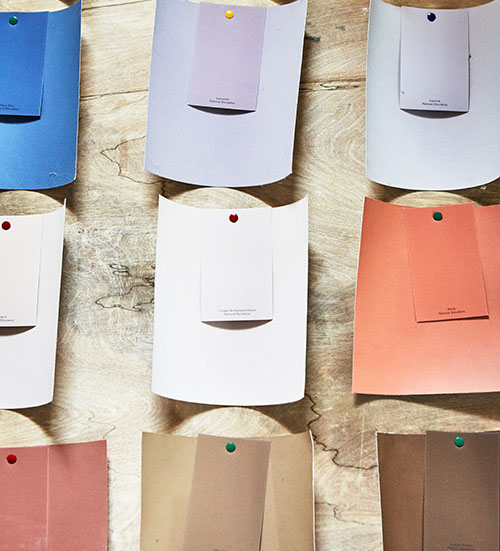 W&W: Welland & Wye Is partly based In Herefordshire, just down the road from paint HQ! For visitors to our beautiful county, what would make a great day out?
A walk round Birches Farm, Kington (to see how beautiful our local farmland used to be), a stroll round Pembridge, a pint in the New Inn and then dinner at The Cider Barn.
W&W: We couldn't agree more, this would be a perfect day in Herefordshire! Thank you, Edward, for taking the time to answer our questions. We wish you every success with your new shop in Ebury Street and we look forward to seeing your future design projects.