About Our Fabric
In the British country house of the 18th century, Jacobean embroidery, or crewel, could be found on cushions,
wall-hangings, curtains, firescreens and bed-hangings. The typical tree of life pattern, incorporating naive animals, native flora and trailing foliage forms the basis of our present-day designs. We still use the same natural colours; dusky pinks, earthy teracottas, natural greens and delicate blues, with simple background cloths of linen or cotton in antique cream or tea-stain.
The East India Company established the trade for textiles along the Silk Road in the 16th and 17th centuries and since then, crewel has been produced mainly in the Northern Indian region of Kashmir, close to the border with Pakistan. The source materials are bought from markets across Northern India from the regions where the natural resources have been used to their best advantage: linen woven by Bhagalpur craftspeople in Bihar, cotton from Gujarat, embroidery yarn from the sheep of Rajasthan.

Production of our fabric is skilled and labour intensive. Using a crochet-style hook called an aari, artisans use a running- or chain-stitch to create motifs, usually with intricate shading to enhance the richness of the palette. With more than 100,000 stitches in the average metre of fabric, and each metre taking around a week to embroider, making our fabric is a slow process in a world of fast manufacture.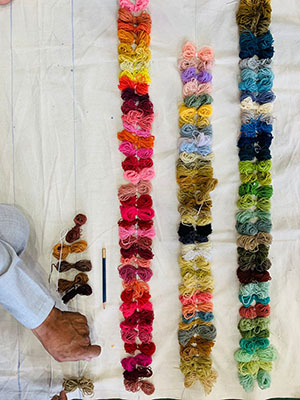 We are sisters Eleanor Baker and Frances Barber. We grew up in the Herefordshire countryside, imbued with a love of beautiful and timeless interiors by our mother Jan Baker, an interior designer and collector of hand-embroidered fabrics.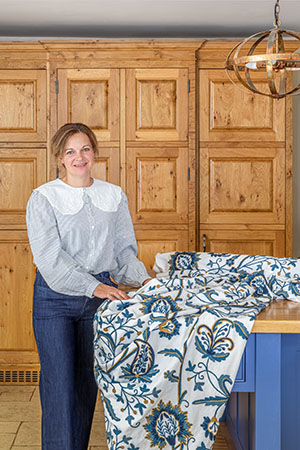 Welland & Wye is a boutique seller of hand embroidered fabrics. Our collection uses traditional and historical textile designs and updates them with a palette to appeal to today's market. We continue to develop new designs with our partners in Kashmir. This year, the studio has released two new fabrics; a new bright botanical crewel and a more traditional Jacobean crewel with the stylized floral motifs which are so recognizable in classic interiors. We are working on a classic cream on cream design for 2023 and we are also hoping to bring forward a new design through an exciting collaboration with a specialist embroiderer.
All the fabrics displayed on our website are currently in stock and will be delivered within 3 working days.
We work with exceptional craftsman in Kashmir; families who have made their living in the mountains and valleys of the region for generations, designing and producing work which is inspired by their own natural surroundings and the cultural heritage of their relationship with European traders.
During political upheaval in the region of Kashmir we are continuing to support our artisans in India in any way we can and we continue to invest in their craftsmanship and skill, hopeful of helping to bring peace and prosperity to this beautiful region.
We are followers of English Country House Style; inspired by the beautiful houses and gardens of our British counties but rooted in the reality of family, animals and friends. Our pieces are classic and timeless, and will fit within the walls of the grandest parlour or the cosiest snug. Comfort and character are our talismans.
"Fashions are changeable.
Taste is in realising the essence of a place."